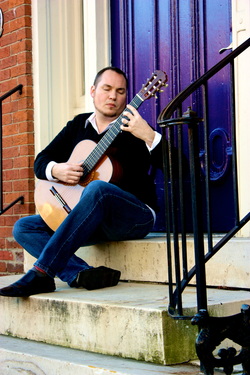 William Hart Wells is the Director of Guitar at Potomac Falls High School in Sterling, VA. Originally from Kings Mountain, NC, Hart studied under Dr. Douglas James at Appalachian State University. A North Carolina Teaching Fellow scholarship recipient, Wells graduated in 1999 with his Bachelor's in Music Education and began teaching K-5 general music at Granite Falls Elementary School in Granite Falls, NC and directing the guitar program at Caldwell Community College and Technical Institute in Hudson, NC.

In 2004, Wells accepted a teaching position with Loudoun County Public Schools and has since served as the Director of Guitar for Potomac Falls High School (PFHS) in Sterling, VA. With an annual enrollment of approx. 120 guitar students, the program at PFHS continues to be at the forefront of pre-college guitar education. The program has received much acclaim with invitational performances at the John F. Kennedy Center for the Performing Arts (Washington DC), the Department of Education (Washington DC), the Virginia Music Educator's Association Convention at the famed Homestead Resort (Hot Springs, VA), the Cathedrals of Saint Paul the Apostle and Saint John the Devine (New York City, NY), the Peabody Conservatory (Baltimore, MD), as well as adjudicated performances in Chicago, Philadelphia, and Orlando, the guitar students of PFHS, under Mr. Wells' direction, continue to help spread the good word of guitar education.

In 2013, Wells completed his Master's of Music in Guitar Performance at the Shenandoah Conservatory in Winchester, VA studying under the direction of Dr. Glenn Caluda. Mr. Wells has performed in masterclasses with Oscar Ghiglia, Eduardo Fernandez, Jason Vieaux, Bruce Holzman, Julian Gray, Matteo Mela, Stanley Yates, Raphaella Smits, Andrew Zohn, among others. Mr. Wells will be appearing on an upcoming cd produced by Les Productions d'Oz of the solo and ensemble compositions of Miroslav Loncar due to be available in late 2015. Wells will be performing a work entitled "Lullaby with Variations" that he commissioned from the composer in late 2012.

Widely regarded for his work with young musicians, Wells has given presentations on implementing the Loudoun County Public Schools pre-college guitar curriculum to music education and guitar majors at James Madison University (2011) and East Carolina University (2015). The spring of 2015 also saw Wells serve as the guest conductor for the Chesterfield County All-County Guitar Ensemble. This upcoming summer, Wells will be conducting the first ever guitar ensemble performance as a part of the East Carolina University (ECU) Summer Guitar Festival. More information on the ECU Summer Guitar Festival concerts, masterclasses, workshops, and competition can be found on the ECU School of Music website.

Mr. Wells also is an active member of the Guitar Foundation of America, the Virginia Music Educator Association, and serves on the Board of Directors for the Aguado Guitar Concerts of Sterling, VA.

Hart resides in Leesburg, VA with wife Kelly, their daughter Kennedy, and their dogs Max and Maggie.
---